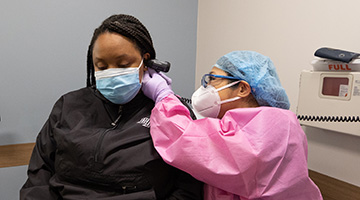 Welcome to University of Maryland Urgent Care in Columbia, where board-certified physicians and nurse practitioners provide care to patients of all ages for the full spectrum of immediate medical concerns.
Phone: 667-214-2100
5890 Waterloo Road
Columbia, MD 21045
Hours
Monday – Friday: 8 am - 8 pm
Saturday and Sunday: 8 am - 6 pm
Our office is open 364 days a year. We are closed on Christmas Day, December 25th.
---
COVID-19 Testing
COVID-19 testing is offered to patients who have respiratory symptoms, have recently been exposed to the virus, and who need pre-operative testing or pre-/post-travel testing. Testing should occur 5-7 days after exposure.
Patients who are not exhibiting any symptoms may get tested car-side.
We perform PCR tests to ensure accuracy. Test results are provided within 48 hours compared to other urgent care centers that take five days or more.
Patients are COVID-19 tested in negative pressure rooms to prevent potential spread.
COVID-19 Patient Care Program
Once a patient tests positive, they may opt-in for continuing care with our Infectious Disease physicians via virtual telehealth visits to prevent complications.
---
Non-respiratory conditions treated at UM FPI Urgent Care include:
Bone breaks and muscle aches
Deep cuts and wounds
Fever
Insect bites and stings
Rashes
Sprains and strains
Sports Injuries
Upset stomach and pain
Urinary tract infections
In addition, we offer X-ray services, on-site lab testing, quick access to sports medicine and specialty care services, such as ophthalmology, dermatology, Lyme disease care, sleep medicine, women's health, urology, facial paralysis and more.
Call 667-214-2100 (option 1) for more information.
Insurance Information
For Medicare patients and patients with a health insurance plan regulated by the State of Maryland: There is no out-of-pocket expense. The visit will be submitted to your insurance plan, which will not charge you a deductible, coinsurance, or copay. We accept most major insurance plans, including Medicaid. You can contact your health insurance plan at the number on your identification card to find out whether your plan is regulated by the State of Maryland. Medicare also covers 100% of the cost of COVID-19 testing.
For all other patients: Our cash price for testing is $100.00. However, for self-pay patients, the cost of COVID-19 testing is covered by the federal and/or state government under the Families First Coronavirus Response Act and/or state orders. To the extent that these laws and orders continue to cover the costs of testing, we will not bill self-pay patients directly.