At University of Maryland Facial Plastic Surgery, we offer the full spectrum of care to patients with facial paralysis caused by stroke, trauma, tumors that press on the facial nerve, diseases that affect the facial muscles, damage to the facial nerves (Bell's palsy), or infections that may cause temporary or permanent nerve dysfunction (Guillain-Barré syndrome, Lyme disease, herpes simplex or herpes zoster).
Innovative Treatments
The treatments offered to each patient depends on the underlying cause of the paralysis. In addition to implementing medication or surgery when needed, Dr. Kalpesh Vakharia treats the loss of facial function using a combination of neuromodulators (Botox), facial fillers and/or surgery.
In order to achieve the best possible outcomes, Dr. Vakharia often refers patients to a facial paralysis physical therapist whose techniques complement the treatments he offers, including:
Neuromuscular re-education
Fascial manipulation
Cranio-Sacral techniques
Dry needling
Ultrasound assessment
Biofeedback
Extensive individualized home programs
Appointments
Be seen within 2-3 weeks. To schedule a consultation or for more information, call 667-214-1772.
Locations
Baltimore City
University of Maryland Professional Building
419 W. Redwood Street, Suite 370
Baltimore, MD 21201
Directions
Howard County
University of Maryland Faculty Physicians, Inc. – Columbia
5890 Waterloo Road
Columbia, MD 21045
Directions
Meet Our Expert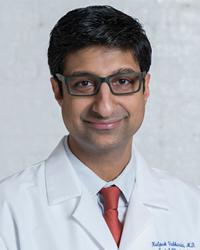 Associate Professor of Otorhinolaryngology - Head & Neck Surgery; Chief, Facial Plastic & Reconstructive Surgery; Director, Facial Nerve Center