Ambulatory Surgery Center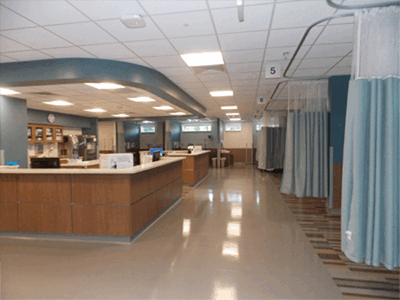 We're proud to announce that the UM Ambulatory Surgery Center (ASC) in Columbia was named the No. 1 ASC in Maryland in Newsweek's "America's Best Ambulatory Surgery Centers 2023" list. Only 510 out of over 5,000 Medicare-certified ambulatory surgery centers in the country made the list. Congratulations to our team!
At our onsite Ambulatory Surgery Center (ASC) in Columbia, same-day surgeries and medical procedures are performed by expert physicians from University of Maryland School of Medicine, saving patients a trip into the city.
Our surgeons are leaders in their specialties and have access to the latest clinical trials and research – ensuring patients will receive the most current and innovative treatment options available.
Our ASC is State-licensed, Medicare certified and Joint Commission accredited, and boasts one operating room, two procedure rooms, 11 recovery bays and a large waiting area. It is virtually brand new – having been built in 2015.
In one convenient location close to home, patients can receive surgical consults, surgery/procedures and pre- and post-op visits.
Services
Surgeries and Procedures performed at our Ambulatory Surgery Center include:
Carpal Tunnel Surgery
Cataract Surgery
Dialysis/Vascular Access
Fracture Repairs (knee, hand, shoulder)
Glaucoma Surgery
GYN Oncology Surgery
Knee and Shoulder Arthroscopy
Oculoplastic Surgery
Rotator Cuff Surgery
Strabismus Surgery
Consultations
We also provide surgical consultations for the following services:
Breast Surgery
Cardiac Surgery
General Surgery
Opthalmology
Pediatric Surgery
Skin Cancer
Surgical Oncology
Transplant (Dialysis Assess)
Thoracic Surgery
Vascular Surgery
Appointments and Information
For more information or to schedule a consultation with one of our specialists, call 667-214-2100.
Hours
Surgery center:
Monday through Friday: 6:30 am to 4:00 pm
Location
5900 Waterloo Road
Columbia, MD 21045
Get Directions